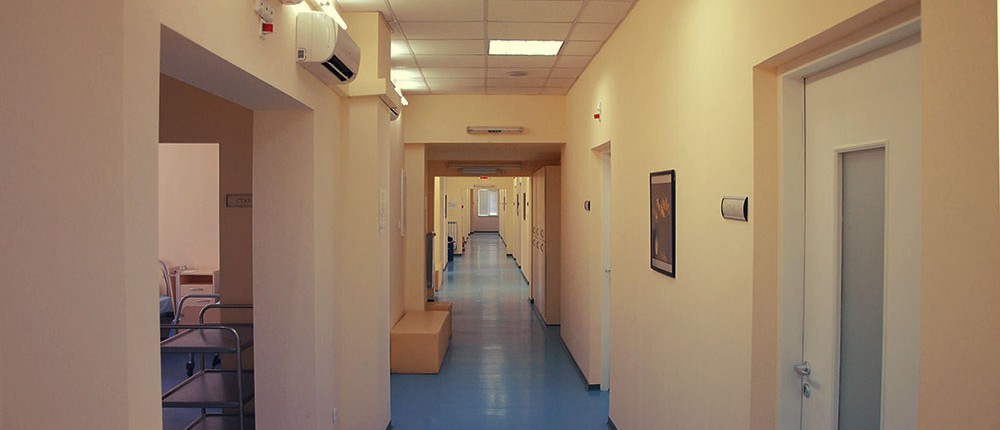 COMAC MEDICAL has established a 24-bed hospital-based Clinical Pharmacology Unit for Phase I BA/BE Studies. The unit occupies the third floor of University Hospital "St Ivan Rilski" in the centre of Sofia. The internal part of the building was totally renovated by COMAC MEDICAL. The unique location of our Phase I Unit,  the largest one in Southeastern Europe, guarantees  rapid and cost-effective conduct and management of Phase I clinical studies.
Area of 1200 m2 (access control system)
42 hospital beds (including 1 intensive care ones)
Dedicated medical team (physician present 24H)
24H Emergency Care team
High medical staff/ bed ratio
Patient experience
Possibility to separate cohorts/ trials
Physicians' offices
Sampling room
Safety and bioanalytical laboratory
Pharmacy
Lockers
Archiving facility
Emergency Care equipment (cardiac monitoring)
24H Ambulance
Access control system within the facility
Temperature monitoring & recording system for all freezers and refrigerators
Laminar Flow Cabinet for aseptic drug preparation
Central clock system
Patient alarm system
Hi-tech camera monitoring system
Announcement and audio system
High-speed Internet connection
Alternative light enhancements
UPS for all systems (incl. centrifuges and freezers)
Fire-alarm system
Ventilation/ Air conditioning
Principal investigators have more than 5 years experience in conducting clinical trials.
Investigators are doctors with more than 5 years experience and working in CTs for at least 2 years.
Nurses work for more than 5 years in nursing and at least 1 to 3 years in clinical trials.
Pharmacists have at least 1 year experience in clinical research.
Head of Laboratory with MD degree, full Professorship and Specialties in Clinical Laboratory Medicine and Clinical Pharmacology; Clinical Laboratory Medicine National Referee.
Laboratory Technologists – chemical engineers, M.Sc., with special training and competence in Development and Validation of Chromatographic Methods with Conventional and MS detection according to EMA and FDA requirements.
Laboratory Technicians – B.Sc., with special training and qualification to perform Chromatographic Analysis in compliance with GLP requirements.