Visit of Commissioner Carlos Moedas in Bulgaria
October 10, 2016
As an example of good practices and beneficiary of Horizon 2020 SME Instrument, Comac Medical was invited to participate in the conference related to the visit in Bulgaria of Carlos Moedas, European commissioner for research, science and innovation.
The event took place on October, 8, 2015 and it was organized by the Bulgarian Ministry of Education and Science together with Directorate-General for Research and Innovation of the European Commission.
Comac Medical was represented by Prof. Popov and Mr. Kadinov. They had the opportunity to present the innovative project idea, during a panel session dedicated to the European financial instruments for research and business as well as the EU Framework Programme for Research and Innovation – Horizon 2020.
The event was moderated by Ms. Zlatina Karova – Director of the Directorate Science, Bulgarian Ministry of Science and Education.
Professor Popov and Mr. Tsvetomir Kadinov represented the innovative project of Comac Medical related to the improvement of diagnostics of respiratory diseases by validation of fractional EBT biomarker through new method of measurement and device.
The participants were informed about the innovative solution, which is a timely response to the EU wide and global challenges related to the respiratory diseases, causing high levels of mortality (NCDs, representing 63% of the global deaths worldwide).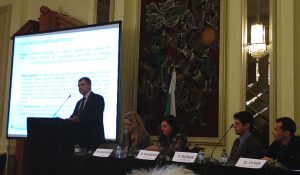 After a short discussion, the conference continued with presentation of two projects about the creation of an innovation center for biology and biotechnology as well as of a center of excellence in mathematic modelling and computing.
The panel session was concluded by Ms. Mariana Hamanova – Director of Cleantech Bulgaria who focused on the opportunities for projects which include business and academia in the context of Knowledge and Innovation Communities (KICs).