Dr. Milen Vrabevski with award "Father of the Year 2016"
February 24, 2017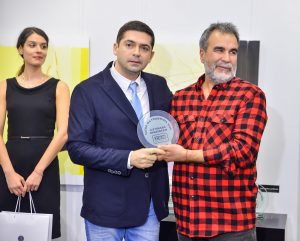 On February 22, 2017 in the Sofia gallery "Nirvana" a special ceremony for the award of "Father of the Year 2016" took place. In the presence of famous artists, musicians and business representatives and in the artistic atmosphere of the gallery, Dr. Milen Vrabevski, chairperson of the Bulgarian Memory Foundation, took the award "Father of the Year 2016".
17 eminent personalities from the fields of business, art, culture and science were chosen to compete for the award "Father of the Year 2016". The prize is given for the fourth time and is intended at encouraging charity activities of people with proven attitude towards causes related to children and child development.
The award was presented to Dr. Vrabevski by the artist Vihroni Popnedelev and the other winners of the title are the actor Darin Angelov, the organizer of charity events Kalin Uchindolski, the meteorologist Zahari Dimitrov and Deo.
Amongst the previous winners of the prize "Father of the Year" are Dr. Valentin Pavlov, Niki Kanchev, Ditcho, Father Ivan and Father Gregory of Novi Han, the frontman of the "Konkurent" Emil Antchev, the actor Nikolay Nikolaev – Bate Nikolai, the engine driver-hero Dimitar Hristov.