Dr. Milen Vrabevski with support for the Center for work with children with developmental disorders in Varna
March 15, 2017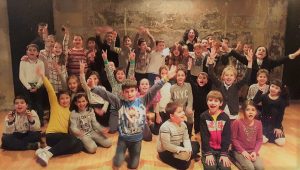 More than 70 children from across Bulgaria have visited the "Flame" Center, where they have received professional care and opinion, only within the last six months.
Creative and educational center "Flame" in Varna specializes in work with children with developmental disorders. It was created to help children with autism and special educational needs to find high-quality daily professional care, support and consultation for the parents.
"Thanks to the support from the Bulgarian Memory Foundation and Dr. Milen Vrabevski, the center has turned into a place where the people who need help have the opportunity to develop their full potential in an atmosphere of coziness, understanding and positive attitude. The multidisciplinary team of specialists – neurologist, child psychologists, speech therapists, art therapist, special pedagogues, educators and others makes it possible to use a great number of complementary methods", says Dr. Plamen Dimitrov, founder and manager of the Center.
Established therapy practices are: transcranial electrical stimulation (neuromodulation), biofeedback training, vestibular training. The neuromodulation therapy for children with autism is based on the method developed by Dr. Harry Schneider. During his visit in Bulgaria, in July 2016, the world famous neurologist trained Dr. Plamen Dimitrov, who has been performing electrical stimulation for the kids in need since August 2016. Dr. Dimitrov has also developed a method for EEG diagnostics of childhood developmental disorders and is a lecturer at Clinic of Child Neurology and Psychiatry at Medical University – Varna.
Support for Creative and educational center "Flame" is part of many years of work of Bulgarian Memory Foundation towards development and healthcare of the young people in Bulgaria.  For more information about the work of the Center please visit: https://www.facebook.com/centar.plamak/