Private Secondary School "Tsar Simeon Veliki" is among the 20 schools chosen for The European Parliament Ambassador Schools
March 15, 2017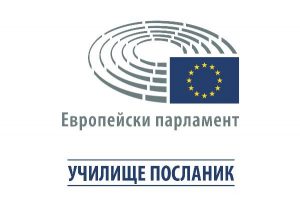 On 14th February 2017 the activities under The European Parliament Ambassador Schools programme for school year of 2016/2017 started. The first participants are 20 schools in total from Pernik, Sofia and Sofia-city municipalities. The focus of the programme is to build an exploratory model among the young people about awareness of the European institutions, structure of the European Union and the role of Bulgaria in it.
The initiative of the European Parliament is the largest platform of its kind, which is promoting awareness about Europe among the young Bulgarian citizens. The programme is with a long-term horizon, and in each subsequent year new 30 educational institutions will be added to its network.
The initiative will continue with holding two training seminars for teachers, which will take place in February and March and will train educational teams that will get on with the organization and realization of the programme. During the period from 27th February – 24th May the educational process will take place in the chosen schools and the targeted activities, which will include simulation games, conduction of informational campaigns, celebrating Europe Day and others will be carried out. This stage of the programme will be evaluated by the Information Office of the European Parliament and the ones with the best score will be granted Ambassador School status and the participants in the programme – junior (students) and senior (teachers) European Parliament ambassadors.
The programme will continue over the following school year of 2017/2018, and during this period it will be held across the whole country and the number of educational institutions that will be admitted to participate will be increased to 50 in total.
For more information about Private Secondary School "Tsar Simeon Veliki" please visit: www.tzarsimeon.bg