From the very beginning of Comac Medical, we are committed to the raising the patients' awareness towards the clinical trials and increasing the transparency in conducting clinical trials on a country level.
Following our commitment to educate and inform the public and the research professionals we have created a patients brochure which provides essential information and insight about clinical research participation.
GCP brochure for the patient issued in November 2004 by the Association for GCP and Clinical Research Development in Bulgaria under the overall editorship of Dr. Milen Vrabevski.
Letter of Appreciation from the Ministry of Health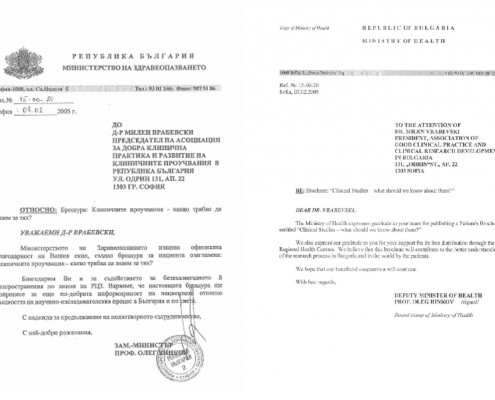 Finding and Enrolling – Comac Medical has developed a versatile approach on patient recruitment and enrollment consisted of several points:
Site's database
Own database (3147 patients)
Vast referral network with more than 11100 investigators
Patients' associations
In this manner, we can guarantee that the previously appointed patient recruitment projections will be accomplished. This approach has been proven as working in all our clinical trials, both late and early phases.